For people who love to ski, they either buy their own boots or they rent a ski boots when they go skiing somewhere else. Just like skating shoes that we rent at the skating place, those pairs of shoes had been worn by many people and you can never tell how many feet had been in that shoe. For personal hygiene reason, we want to make sure that the shoes that we use had been disinfected and cleaned and such. For ski shoes, it's the same way, they need commercial boot dryers to make ensue that all the shoes that people used had been dried properly, disinfected to avoid foot disease or other health issues. It's better be safe than sorry is what they say.
If you go to Harris welding supplies you will definitely find whatever it is you're looking for. They sell wide variety of welding supplies for reasonable prices. My cousin who is a welder always order her supplies from there and she is always satisfied with the great quality of their products. Having a quality equipment is very important when you are working on something valuable, high quality products, results in better profit in the end. Many people always look for reliable store to get their supplies and always come back for more.
Our tree has been up since last week, but we decided to wait until Friday after Thanksgiving to put up decorations. The girls had been wanting to hang some Christmas balls and other stuff to it, but I told them to wait. I just thought to post photos of my kids and my husband putting the tree together. I am the finishing touch person, it's traditional that my family put up everything and I help my husband with the Christmas lights and then I retouch and stuff.
The kids are always excited to put decorations on the tree, although I have to redo them since the decors are all stuck together (thanks to our 6 year-old) I love it when they have fun doing it. I want them to remember these moments when they get older and have their own Christmas tree to put up. I love seeing my kids enjoying each Christmas and I know that they will carry on the tradition when they become the head of their families.
But anyhow here are some photos of them putting up the tree.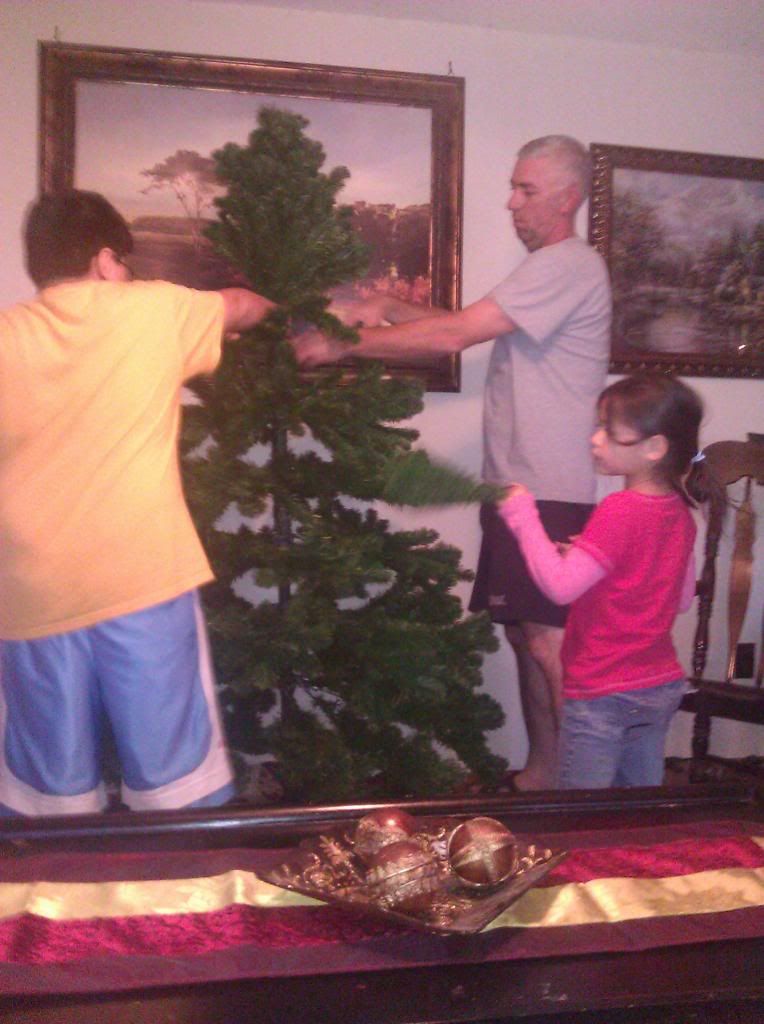 Still no decorations yet, but I guess, it's looking good. We will be having few guests during Christmas and I want our house to look nicer and cleaner than its everyday look, if you all know what I mean. Having small children, it's hard to keep it clean, organized and well maintained, but who cares, my children are healthy and they mess up my house. I keep telling myself, if I want a clean house, I shouldn't have kids. You agree with me???
Have a great day to all!
Are you one of many jazz lover people who are looking for Hal Leonard Bb The Real Book? If your answer is yes, then you found what you're looking for. People who love jazz music had been using Hal Leonard's jazz book to learn more about jazz. Although many copies had been printed illegally long time ago, this edition is the first legitimate and legal book that is out on the market right now. Many people love jazz, romantic ones and those who just want to relax would listen to jazz music. It's very therapeutic to many and although not everyone cares for this type of music, it's been around for many years.
My brother loves to play guitar, he started playing when he was in high school. I tried to learn but I quit when my fingers started to hurt. He never asked me to buy him anything but I would really love to get him the c350 for his relaxation. I know that he would really be glad to get one from me. I am still not losing hope that time will come that I will be able to buy him something that I know he will enjoy. Playing guitar was my dad's favorite thing to do when he was still alive. My brother and him shared a great way to feel good and make people entertained. Although I never learned to play, I still enjoy watching people play and I admire them for the talent that they have.